Opus 1424
Solos and Duos
(2017)
34 Pieces for Any Instrument(s)
Chant
Salve
Ricochet
Work Song
Cinque frammenti
Allein
A Turning
Mountain Melody
Color Prelude
Turn Tune
Grid
Clear
Sneaky
Crawl
Pauper et humilis
Mountain Tune
Lonesome
Canto in sospeso
Estampie
Low Fifths
Aeolian Harp
Tune with Breaks
Gradual Ascent
Carol
Flipping
Hare and Tortoise
Lucky Sevens
Two Refrains
Tree Song
A Rubbing
Twining Dance
Short Climb
Sorbian Duo
Unfinished Duo
Download PDF
Duration: 45+ min.
Publisher: Zimbel Press/Subito Music Corp.
Performance materials available from the publisher.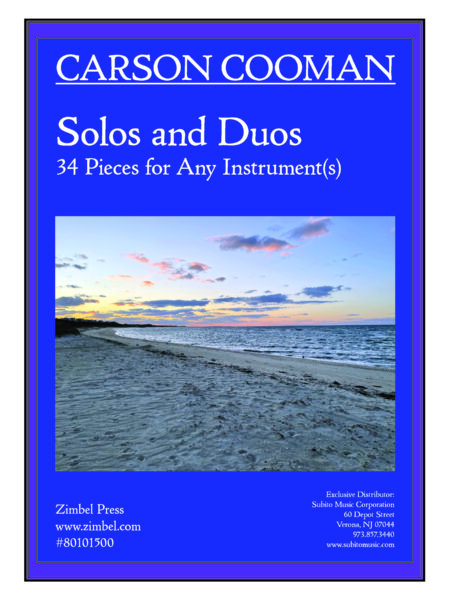 Solos and Duos (2017) is a collection of small pieces for any instrument(s). The first section, "Solos," contains single-line (monophonic) pieces. The second section, "Duos," consists of music in two voices. (These pieces were composed in 2017 and organized for publication into this volume during 2022.)
In keeping with the extremely varied inspirations behind these works, it is imagined that the use of the pieces will be rather free. It is certainly possible to play a piece simply as it appears. However, it is equally possible to use the music as material for a realization involving improvisation. In these cases, they may be realized in a variety of ways depending on the nature of the material, the occasion at hand, the particular musical circumstances, and the performer's interests and inventiveness. If one is using an instrument that can provide its own harmonies (such as a keyboard instrument), it is certainly possible to add additional voices to the monophonic pieces.
Performance indications are sparse and are only possible suggestions. While pieces are notated in registers/clefs, these choices are not necessarily binding, and the music may be transposed as necessary.
A printed publication of this volume is available from Zimbel Press/Subito Music Corp. The complete book may also be downloaded as a free PDF via the link above.