Concert Organist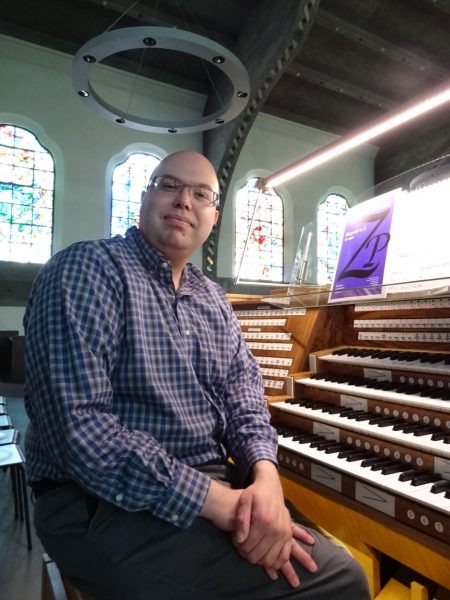 Carson Cooman is an active organ recitalist specializing primarily in new music. He presents programs showcasing the diversity of organ music from the 20th and 21st centuries, featuring works of composers of many different nationalities. Engaging and interesting programs are constructed that appeal even to those audience members who may not think they are interested in new music.
Carson has been highly acclaimed by audiences, press, and composers for his interpretations and performances of contemporary works, many of which have been composed for him.
Carson also has a great interest and specialization in music for chamber organs. He has engaged in an ongoing commissioning project developing new repertoire for small organs and is very comfortable and enthusiastic about playing recitals on even the very smallest organs.
Carson is available for either solo recitals (of all lengths) or appearances as a concerto soloist.
"Cooman's playing, as always, was splendid, featuring excellent finger technique, careful delineation of voice, and inventive choice of stops."— The New Music Connoisseur
"Cooman's performance was first rate." — 21st Century Music
"Carson Cooman is one of the most versatile and active musicians of our time. Pianist, organist, composer, and improviser, he is excellent in every field." — Music and Vision
"Fine performances from Carson Cooman treat each with requisite delicacy of expression." — Choir & Organ
"Carson Cooman demonstrated his virtuosic technique with Pehrson's use of pedal, tone clusters and unfettered dynamics. Even in this rather small space the joy was evident." — The New Music Connoisseur
"…the program was fascinating. …Both were played excellently by Cooman." — The Boston Musical Intelligencer
"Carson Cooman is a nimble, nuanced, and eloquent advocate." — Choir & Organ
"The organ, skillfully played by Carson Cooman, predictably held its own." — Feast of Music
"Cooman's success as a composer for the organ is due in large part to his innate understanding of the instrument as a performer." — American Record Guide
"Carson Cooman contributes effective organ solos…" — The Gramophone
To inquire about booking Carson for a performance or for more information, please contact him directly: carson@carsoncooman.com
(Top photograph by Burkhard Schäfer: Carson Cooman at the Link-Gaida organ of the Pauluskirche, Ulm, Germany; Middle photograph by Lee Eiseman: Carson Cooman at the D. A. Flentrop organ of Adolphus Busch Hall, Harvard University, Cambridge, Massachusetts; Bottom photograph by Brooks Canaday: Cooman at the C. B. Fisk, op. 139 organ of The Memorial Church, Harvard University)