Opus 1210
Variations on a Theme of Andreas Willscher
(2017)
for Organ
Erik Simmons, organ
Duration: 8 min.
Dedication: for Walter Zielke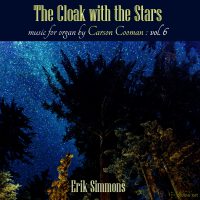 Recorded on The Cloak with the Stars: Music for Organ by Carson Cooman (2017)
Publisher: Zimbel Press/Subito Music Corp. in "Hamburg Organbook"
Performance materials available from the publisher.
Variations on a Theme of Andreas Willscher (2017) is dedicated to German organist and composer Walter Zielke. The work is a set of variations on a theme by a mutual friend, the German composer and organist Andreas Willscher. The melodic theme comes from Willscher's Petite Pastorale (from 76 Inventions, 2006).
The theme is presented at the beginning and is followed by five contrasting variations. The first variation presents the theme above an ostinato figure. The second combines the melody in the bass register with floating harmonies above. The third variation is a "quasi musette," with the theme heard over a Renaissance dance-like bass. The fourth is a lush and quiet meditation. The fifth and final variation begins with the theme in imitation and leads the work to a joyous conclusion.