Opus 1194
Ciaccona angelica
(2017)
for Organ
Erik Simmons, organ
Duration: 3.5 min.
Dedication: for Felix Bräuer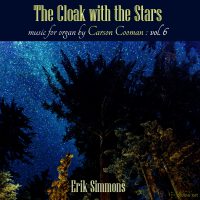 Recorded on The Cloak with the Stars: Music for Organ by Carson Cooman (2017)
Publisher: Lorenz Publishing Co. in "The Sacred Organ Library, Vol. 7"
Performance materials available from the publisher.
Ciaccona angelica (2017) is dedicated to Felix Bräuer. A long-breathed melody unfolds over a very tranquil accompaniment.