Music by Lothar Graap

Carson Cooman has championed the music of German composer Lothar Graap (b. 1933) and has made recordings of a number of his organ compositions.
Educated at the conservatory in Görlitz, Graap's primary teachers were Eberhard Wenzel and Hans Schneider. He also studied with Helmut Bornefeld and Siegfried Reda. In 1954 he began a career as a professional church musician in Niemegk, and he pursued this work at several positions until his retirement in 1998 from Cottbus, where he had been cantor at the Klosterkirche. By the time of his retirement, he had performed and directed more than 1000 vespers services and concerts in Cottbus. Graap has composed more than 700 compositions in many forms, with a particular focus on organ and choral music.
---
Two CD releases are available:
Meditationen, GWV 51 (1968)
7 kleine Orgelstücke, GWV 689 (2012)
Fantasia A – (E)S, GWV 399 (1999)
Sonatine, GWV 542 (2006)
Sonne der Gerechtigkeit (Choralsuite), GWV 500 (2004)
Concertino in A minor, GWV 91 (1978)
---
Fantasie I, GWV 121 (1984)
Befiehl du deine Wege (12 Versetten), GWV 572 (2007)
Choralmesse, GWV 529 (2005)
Fantasie II, GWV 122 (1984)
4 Orgelstücke von Musik für Positiv 1, GWV 61 (1971)
5 Miniaturen, GWV 245 (1992)
Heitere Spielmusik, GWV 569 (2007)
Fantasie III (über B-A-C-H), GWV 128 (1985)
---
In addition to the works recorded on CD, Carson has recorded numerous pieces by Graap that can be listened to online at Contrebombarde Concert Hall (online listening stream links), or YouTube (ful
l playlist), or downloaded as MP3 files.
Adeste fideles (Fantasie), GWV 459 (2002)
Published by Edition Musica Rinata
Online listening stream / MP3
Aphorismen für Orgel über den Namen G-r-a-u-p-n-e-r, GWV 748 (2015)
Online listening stream / MP3
Befiehl du deine Wege (12 Versetten), GWV 572 (2007)
Published by Edition Musica Rinata
Online listening stream / MP3
Bewahre uns, Gott (Partita), GWV 506 (2004)
Published by Carus-Verlag
Online listening stream / MP3
Bleib bei mir, Herr! Der Abend bricht herein (Kleine Partita), GWV 291 (1995) (Abide with Me)
Published by Ortus Musikverlag in "Berliner Orgelbuch"
Online listening stream / MP3
Bunt sind schon die Wälder (Liedvariationen), GWV 734 (2014)
Published by Edition Dohr in "Zwei Partiten über Volksliedmelodien"
Online listening stream / MP3
Choralmesse, GWV 529 (2005)
1) Kyrie: Aus tiefer Not schrei ich zu dir (MP3)
2) Gloria: Gott in der Höh sei Preis und Ehr (MP3)
3) Credo: Wir glauben all an einen Gott (MP3)
4) Sanctus: Heilig, heilig ist der Herr Zebaoth (MP3)
5) Agnus Dei: O Lamm Gottes, unschuldig (MP3)
Published by ADU-Verlag Aurich
Online listening stream (complete) / MP3 (complete)
from Choralpräludien zur Weihnachtzeit, GWV 489 (2004)
Es ist ein Ros entsprungen (Canzona)
Online listening stream / MP3
Herbei, o ihr Gläub'gen (Toccata) (Adeste fideles)
Online listening stream / MP3
Published by Edition Musica Rinata
Concertino, GWV 800 (2019)
1) Vorspiel; 2) Variationen; 3) Ostinato; 4) Nachspiel
Published by Edition Dohr
Online listening stream / MP3
Concertino in A minor, GWV 91 (1978)
1) Allegro (MP3)
2) Andante (MP3)
3) Allegro (MP3)
Published by Edition Dohr
Online listening stream (complete) / MP3 (complete)
Concertino III in C, GWV 745 (2015)
1) Präludium (MP3)
2) Arioso (MP3)
3) Rondo (MP3)
Published by Edition Dohr
Online listening stream (complete) / MP3 (complete)
Da Jesus an dem Kreuze stund (Partita), GWV 598/1 (2008)
Published by Musik-Edition Récit in "Drei Partiten für Positiv über Passionslieder"
Online listening stream / MP3
Das ist köstlich (Psalm 92) (Liedpartita), GWV 654 (2010)
Published by Edition Dohr in "Drei Partiten"
Online listening stream / MP3
Die beste Zeit im Jahr ist mein (Liedvariationen), GWV 540 (2006)
Published by Edition Musica Rinata
Online listening stream / MP3
Die Blümelein, sie schlafen (10 Versetten), GWV 735 (2014)
Published by Edition Dohr in "Zwei Partiten über Volksliedmelodien"
Online listening stream / MP3
Die güldne Sonne voll Freud und Wonne (Variationen), GWV 557 (2006)
Published by Edition Musica Rinata
Online listening stream / MP3
Die helle Sonn leucht' jetzt herfür (Choralmusik), GWV 568 (2007)
Published by Musik-Edition Récit
Online listening stream / MP3
Du hast uns, Herr, gerufen (Kleine Partita), GWV 276 (1994)
Published by Strube Verlag in "Du hast uns, Herr, gerufen"
Online listening stream / MP3
Du meine Seele, singe (Choralpartita), GWV 274 (1994)
Published by Edition Musica Rinata
Online listening stream / MP3
Du schöner Lebensbaum des Paradieses (Liedvariationen), GWV 647 (2010)
Published by Edition Dohr in "Drei Partiten"
Online listening stream / MP3
Erde, singe, dass es klinge (Thema und Variationen), GWV 684 (2012)
Published by Musik-Edition Récit
Online listening stream / MP3
Es ward ein Kind geboren (Partita), GWV 208/1 (1990)
Published by Carus-Verlag
Online listening stream / MP3
from Europäische Weihnachtslieder (Kleine Variationen), GWV 344 (1998)
Freu dich, Erd und Sternenzelt (aus Böhmen)
Online listening stream / MP3
Hört, der Engel helle Lieder (aus Frankreich)
Online listening stream / MP3
O Bethlehem, du kleine Stadt (aus England)
Online listening stream / MP3
Published by Edition Musica Rinata
Fantasia A – (E)S (Hommage à Albert Schweitzer), GWV 399 (1999)
Published by Are Musik Verlag
Online listening stream / MP3
Fantasie, GWV 604 (2008) (for organ pedals, four feet)
Published by Musik-Edition Récit
Online listening stream / MP3
Fantasie I, GWV 121 (1984)
Published by Are Musik Verlag
Online listening stream / MP3
Fantasie II, GWV 122 (1984)
Published by Are Musik Verlag
Online listening stream / MP3
Fantasie III (über B-A-C-H), GWV 128 (1985)
Published by Edition Musica Rinata
Online listening stream / MP3
Fantasie IV, GWV 793 (2019)
Online listening stream / MP3
Festliche Musik, ohne GWV (1993)
Published by Strube Verlag in "Ludus Organisticus"
Online listening stream / MP3
Festliches Praeludium, ohne GWV (2017)
Published by Dr. J. Butz Musikverlag in "Intrada"
Online listening stream / MP3
from Freie Orgelstücke zum liturgischen Gebrauch, ohne GWV (1973)
Dorisch Präludium
Online listening stream / MP3
Jerusalem, du hochgebaute Stadt (Präludium)
Online listening stream / MP3
Published by Evangelische Verlagsanstalt Berlin (out-of-print)
Fröhliche Weihnacht überall (Sonatine für Orgel), GWV 461 (2002)
1) Fröhlich; 2) Andante; 3) Fugato; 4) Liedtempo
Online listening stream / MP3
Published by Edition Musica Rinata
from Fünf Fäntasien, GWV 830 (2021)
Fantasie in C
YouTube / MP3
Published by Edition Dohr
Fünf Miniaturen (Five Miniatures), GWV 245 (1992)
Published by Strube Verlag in "Ludus Organisticus"
Online listening stream / MP3
Geh aus, mein Herz, und suche Freud (Kleine Spielmusik), GWV 318 (1996)
Published by Edition Musica Rinata
Online listening stream / MP3
Gen Himmel aufgefahren ist (Choralpartita), GWV 512 (2004)
Published by Edition Musica Rinata
Online listening stream / MP3
Glaube den Glauben (Thema mit 6 Variationen), GWV 370 (1998)
Published by Strube Verlag in "Das ist Freude: Gott zu Danken"
Online listening stream / MP3
Gottheit tief verborgen (Adoro te devote) (Hymnus in 7 Variationen), GWV 740 (2015)
Published by Musik-Edition Récit
Online listening stream / MP3
Großer Gott, wir loben dich (Fantasie), GWV 550 (2006)
Published by Edition Musica Rinata
Online listening stream / MP3
Heitere Spielmusik, GWV 569 (2007)
Published by Edition Musica Rinata
Online listening stream / MP3
Herzliebster Jesu, was hast du verbrochen (Choralpartita), GWV 626 (2009)
Published by Edition Musica Rinata
Online listening stream / MP3
Hinunter ist der Sonne Schein (Kleine Partita), GWV 696 (2013)
Published by Are Musik Verlag
Online listening stream / MP3
Ich lobe meinen Gott (Liedpartita), BWV 847 (2022)
YouTube / MP3
Ich singe dir mit Herz und Mund (Nun danket all und bringet Ehr) (Partita), GWV 581 (2007)
Published by Edition Musica Rinata
Online listening stream / MP3
Ich steh an deiner Krippen hier (Choralpartita), GWV 625 (2009)
Published by Edition Musica Rinata
Online listening stream / MP3
Ins Wasser fällt ein Stein (Pass it On) (Kleine Partita), GWV 473 (2003)
Online listening stream / MP3
Kaleidoskop (Klangflächen für Orgel), GWV 741 (2015)
Published by Edition Dohr
Online listening stream / MP3
Kleine Präludien und Fughetten, GWV 493 (2004)
Präludium und Fughette in C
Online listening stream / MP3
Präludium und Fughette in D
Online listening stream / MP3
Präludium und Fughette in E
Online listening stream / MP3
Präludium und Fughette in F
Online listening stream / MP3
Präludium und Fughette in G
Online listening stream / MP3
Präludium und Fughette in A
Online listening stream / MP3
Präludium und Fughette in Bb
Online listening stream / MP3
Published by Edition Musica Rinata
Kleine Spielmusik in vier Sätzen, GWV 845 (2022)
1) Vorspiel; 2) Ruhig; 3) Menuett; 4) Rondo
Published by Dr. J. Butz Musikverlag in "Kleine Orgel — Große Vielfalt"
YouTube / MP3
Kommt herbei, singt dem Herrn (Kleine Partita nach einer Melodie aus Israel), GWV 449 (2001)
Published by Edition Musica Rinata
Online listening stream / MP3
Korn, das in die Erde, in den Tod versinkt (Noël nouvelet) (Kleine Partita), GWV 300 (1996)
Published by Strube Verlag in "Du hast uns, Herr, gerufen"
Online listening stream / MP3
from Leichte freie Orgelstücke, GWV 758 (2016)
Introitus
Online listening stream / MP3
Aria
Online listening stream / MP3
Concertino
1) Heiter; 2) Ruhig; 3) Fröhlich
Online listening stream / MP3
Interludium
Online listening stream / MP3
Improvisation
Online listening stream / MP3
Nachspiel
Online listening stream / MP3
Published by Musik-Edition Récit
Liturgische Suite, GWV 798 (2019)
1) Präludium
2) Offertorium: Wir weihn der Erde Gaben dir
3) Kommunion: Wir rühmen dich, König der Herrlichkeit
4) Nachspiel: Freu dich, du Himmelskönigin
Published by Edition Dohr
Online listening stream / MP3
Lobt Gott getrost mit Singen (Partita), GWV 325 (1997)
Published by Edition Musica Rinata
Online listening stream / MP3
Macht hoch die Tür (Liedpartita), GWV 697/1 (2013)
Published by Edition Dohr in "Neune Liedpartiten"
Online listening stream / MP3
from Magnificat-Vertonungen, GWV 565 (2006)
Magnificat (Canzona)
Online listening stream / MP3
Magnificat (Fughette)
Online listening stream / MP3
Published by Musik-Edition Récit
Maria durch ein' Dornwald ging (Partita), GWV 597 (2008)
Published by Musik-Edition Récit
Online listening stream / MP3
Meditationen, GWV 51 (1968)
Published by Deutscher Verlag für Musik Leipzig in "Pro organo" (out-of-print)
Online listening stream / MP3
Morgenlicht leuchtet (Kleine Partita), GWV 606/2 (2008) (Morning Has Broken)
Published by Wolfgang G. Haas-Musikverlag
Online listening stream / MP3
from Musik für Positiv 1, GWV 61 (1971)
Passacaglia
Online listening stream / MP3
Pastorale
Online listening stream / MP3
Toccata
Online listening stream / MP3
Fuge
Online listening stream / MP3
Concertino (in three movements)
Online listening stream / MP3
Fantasie
Online listening stream / MP3
Aria
Online listening stream / MP3
Ricercar
Online listening stream / MP3
Published by Edition Dohr
from Musik für Positiv 4, GWV 89 (1977) (Alte deutsche Weihnachtslieder)
Als ich bei meinen Schafen wacht
Online listening stream / MP3
Es ist ein Ros entsprungen
Online listening stream / MP3
Joseph, lieber Joseph mein
Online listening stream / MP3
Published by Edition Dohr
Neun Orgelstücke, GWV 564 (2006)
No. 1 (Majestätisch)
Online listening stream / MP3
No. 2 (Festlich, etwas breit)
Online listening stream / MP3
No. 3 (Etwas schnell)
Online listening stream / MP3
No. 4 (Bewegt)
Online listening stream / MP3
No. 5 (Entschlossen)
Online listening stream / MP3
No. 6 (Breit, festlich)
Online listening stream / MP3
No. 7 (Leidenschaftlich)
Online listening stream / MP3
No. 8 (Ruhig, andächtig)
Online listening stream / MP3
No. 9 (Gewichtig)
Online listening stream / MP3
Published by Edition Musica Rinata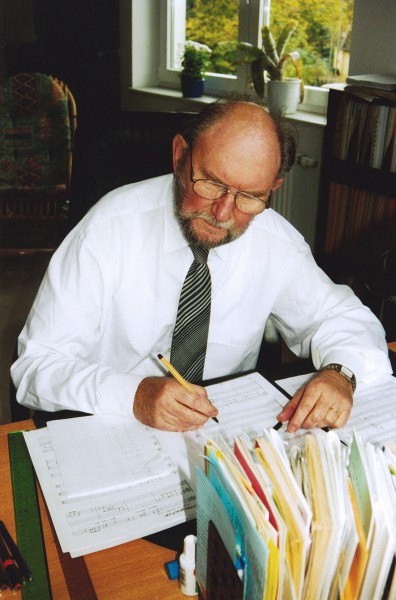 Nun bitten wir den Heiligen Geist (Kleine Partita), GWV 695 (2013)
Published by Are Musik Verlag
Online listening stream / MP3
Nun danket all und bringet Ehr (Choralpartita), GWV 1 (1953)
Published by Merseburger Verlag
YouTube / MP3
Nun lobet Gott im hohen Thron (11 Verse), GWV 338 (1997)
Published by Musik-Edition Récit
Online listening stream / MP3
Christe, du Schöpfer aller Welt (Partita), GWV 102 (1982)
Published by Are Musik Verlag
Online listening stream / MP3
O du fröhliche (Fantasie), GWV 559 (2006)
Published by Edition Musica Rinata
Online listening stream / MP3
O du lieber Augustin (Variationen), GWV 441 (2001)
Published by Edition Musica Rinata
Online listening stream / MP3
O gläubig Herz, gebenedei (Kleine Partita), GWV 606/1 (2008)
Published by Wolfgang G. Haas-Musikverlag
Online listening stream / MP3
O Heiland, reiss die Himmel auf (Choralmusik), GWV 660/1-1 (2010)
Published by Musik-Edition Récit in "Choralmusik für Orgel", Heft 1
Online listening stream / MP3
O himmlische Frau Königin (Fantasie), GWV 668 (2011)
Published by Edition Dohr
Online listening stream / MP3
O haupt voll Blut und Wunden (Choralpartita), GWV 712 (2013)
Published by Are Musik Verlag
Online listening stream / MP3
O Traurigkeit, o Herzeleid (Partita in 10 Sätzen), GWV 113 (1984)
Published by Are Musik Verlag
YouTube / MP3
O Traurigkeit, o Herzeleid (Partita), GWV 598/3 (2008)
Published by Musik-Edition Récit in "Drei Partiten für Positiv über Passionslieder"
Online listening stream / MP3
from Orgelpräludien: Vor- und Nachspiele zum Gottesdienst, GWV 435 (2001)
Fantasia
Online listening stream / MP3
Präludium
Online listening stream / MP3
Hymnus
Online listening stream / MP3
Fuge
Online listening stream / MP3
Published by Edition Musica Rinata
Praeludium, ohne GWV (1993)
Published by Strube Verlag in "Ludus Organisticus"
Online listening stream / MP3
Regina Coeli (Meditation und Cantus), GWV 620 (2009)
Published by Musik-Edition Récit
Online listening stream / MP3

Sagt an, wer ist doch diese (7 Verwandlungen), GWV 584/4 (2006)
Published by Dr. J. Butz Musikverlag in "Maria-Album"
Online listening stream / MP3
Schönster Herr Jesu (6 Verse), GWV 456 (2002)
Published by Edition Musica Rinata
Online listening stream / MP3
Sechs kleine Orgelstücke, GWV 173 (1988)
Published by ADU-Verlag Aurich
Online listening stream / MP3
Sechs Pastorellen, GWV 339 (1997)
1) Heiter bewegt; 2) Gehend; 3) Ruhig; 4) Tänzerisch; 5) Fröhlich; 6) Straff
Published by Edition Musica Rinata
Online listening stream / MP3
from 66 einfache Choralsätze und freie Stücke, ohne GWV (1979)
D-Moll
Online listening stream / MP3
G-Dur
Online listening stream / MP3
Aeolisch
Online listening stream / MP3
B-Dur
Online listening stream / MP3
Published by Evangelische Verlagsanstalt Berlin (out-of-print)
Sieben kleine Orgelstücke, GWV 689 (2012)
Präludium
Online listening stream / MP3
Fughette
Online listening stream / MP3
Canzona
Online listening stream / MP3
Interludium
Online listening stream / MP3
Improvisation
Online listening stream / MP3
Ostinato
Online listening stream / MP3
Pastorale
Online listening stream / MP3
Published by Musik-Edition Récit
Sieben leichte Orgelstücke, GWV 345 (1998)
1) Festlich; 2) Ruhige Halbe; 3) Nicht zu schnell; 4) Freudig; 5) Gehend; 6) Gehend; 7) Festlich
Published by Edition Musica Rinata
Online listening stream (complete) / MP3 (complete)
Singet frisch und wohlgemut (Weihnachtliche Partita), GWV 700 (2013)
Published by Are Musik Verlag
Online listening stream / MP3
Singt das Lied der Freude über Gott (Partita), GWV 302 (1996)
Published by Edition Dohr
Online listening stream / MP3
Singt und tanzt und jubelt laut vor Freuden (Spielmusik), GWV 704 (2013)
Published by Edition Dohr
Online listening stream / MP3
Sonata choralis, GWV 778 (2018)
1) Präludium (Fröhlich wir nun all dangen an)
2) Canzona (Wir danken dir, Herr Jesu Christ)
3) Arietta (Ach bleib mit deiner Gnade)
4) Hymnus (Nun danket alle Gott)
Published by Edition Dohr
Online listening stream / MP3
Sonatine, GWV 542 (2006)
1) Heiter (MP3)
2) Langsam (MP3)
3) Fröhlich (MP3)
Published by ADU-Verlag Aurich
Online listening stream (complete) / MP3 (complete)
Sonatine II, GWV 747 (2015)
1) Lebhaft (MP3)
2) Langsam (MP3)
3) Lebhaft (MP3)
Published by Edition Dohr
Online listening stream (complete) / MP3 (complete)
Sonne der Gerechtigkeit (Choralsuite), GWV 500 (2004)
Published by Musik-Edition Récit
Online listening stream / MP3
Stern über Bethlehem (Thema und 6 Variationen), GWV 364 (1998)
Published by Edition Dohr
Online listening stream / MP3
Stille Nacht, heilige Nacht (Partita), GWV 617/2 (2008)
1) Siciliano; 2) Bagatelle; 3) Aria; 4) Interludium; 5) Duo; 6) Invention; 7) Choral
Published by Dr. J. Butz Musikverlag in "Weihnachtsalbum, Band 2"
Online listening stream / MP3
from Sub Communione, GWV 527 (2005)
Siciliano
Online listening stream / MP3
Duo
Online listening stream / MP3
Fughette
Online listening stream / MP3
Improvisation
Online listening stream / MP3
Präludium
Online listening stream / MP3
Aria
Online listening stream / MP3
Ostinato
Online listening stream / MP3
Interludium
Online listening stream / MP3
Paraphrase
Online listening stream / MP3
Cantilène
Online listening stream / MP3
Postludium
Online listening stream / MP3
Published by Dr. J. Butz Musikverlag
Such, wer da will, ein ander Ziel (Thema und Variationen), GWV 725 (2014)
Published by Edition Dohr
Online listening stream / MP3
Suite für Orgel in fünf Sätzen, GWV 785 (2018)
1) Festlich; 2) Sehr ruhig und verhalten; 3) Großartig; 4) Ruhig schreitend; 5) Stürmisch
Published by Edition Dohr
Online listening stream / MP3
Thema und 4 Veränderungen über das Lied "Yerushalayim Shel Zahav", GWV 419 (2000)
Published by Edition Dohr
Online listening stream / MP3
Lothar Graap (b. 1933)
Thema und Variationen über das spanische Volkslied "Levantaivos, gañanes", GWV 265 (1994; piano)
YouTube / MP3
Tröstet, tröstet, spricht der Herr (Choralsuite), GWV 711 (2013)
Online listening stream / MP3
Unüberwindlich starker Held (Partita), GWV 621 (2009)
Published by Musik-Edition Récit
Online listening stream / MP3
from Variationen über drei Choräle zu den Festtagen des Kirchenjahres, GWV 571 (2007)
Gelobet seist du, Jesu Christ
Online listening stream / MP3
Christ ist erstanden
Online listening stream / MP3
Published by Musik-Edition Récit
Variationen zu drei Schlag-Arien von Valentin Rathgeber, GWV 650 (2010)
Aria 5 ex F (und 5 Variationen)
Online listening stream / MP3
Aria 45 ex Eb (und 5 Variationen)
Online listening stream / MP3
Aria 16 ex G (und 5 Variationen)
Online listening stream / MP3
Published by Anton Böhm & Sohn
Vom Himmel hoch (Choralsuite), GWV 617/4 (2008)
1) Intrade; 2) Fughette; 3) Aria; 4) Nachspiel
Published by Dr. J. Butz Musikverlag in "Weihnachtsalbum, Band 2"
Online listening stream / MP3
Wenn ich, o Schöpfer, deine Macht (Kleine Liedpartita), GWV 655 (2010)
Published by Edition Dohr in "Drei Partiten"
Online listening stream / MP3
Wie lieblich ist der Maien (Liedvariationen), GWV 393 (1999)
Published by Edition Musica Rinata
Online listening stream / MP3
Wisst ihr noch, wie es geschehen (Partita), GWV 310 (1996)
Online listening stream / MP3
Wondrous Love (Orgelpartita über eine amerikanische Hymne), GWV 849 (2022)
YouTube / MP3
Zehn kleine leichte Orgelstücke, GWV 821 (2020)
1) Präludium in C
2) Fanfare in C
3) Präludium in D
4) Fughette in d
5) Interludium in F
6) Pastorale in F
7) Präludium in G
8) Fantasie in g
9) Intrade in B
10) Meditation in h
Published by Edition Dohr
YouTube / MP3
Zwei Meditationen (Nacht und Tag), GWV 732 (2014)
1) …behüt uns heut in dieser Nacht; 2) Sei uns wilkommen, lieber Tag
Published by Edition Dohr
Online listening stream / MP3
Zwölf Bicinien, BWV 830 (2021)
No. 1
YouTube / MP3
No. 2
YouTube / MP3
No. 3
YouTube / MP3
No. 4
YouTube / MP3
No. 5
YouTube / MP3
No. 6
YouTube / MP3
No. 7
YouTube / MP3
No. 8
YouTube / MP3
No. 9
YouTube / MP3
No. 10
YouTube / MP3
No. 11
YouTube / MP3
No. 12
YouTube / MP3
Published by Edition Dohr